Kemeri Sanatorium should be renovated by October 2019
Park Hotel Kemeri should renew the historic Kemeri sanatorium complex in Latvia and start providing hotel and rehabilitation services by October 1, 2019, creating at least 195 new workplaces, according to the protocol of intent signed by Park Hotel Kemeri owners and Jurmala city council.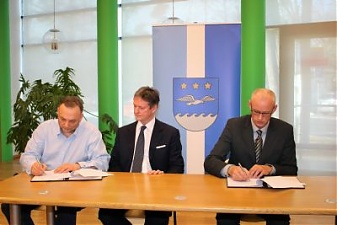 Press photo.
The council's representative Ieva Aile told LETA that the local council by signing the protocol confirmed that it will improve the local infrastructure – renovate the historic Kemeri park, develop interactive nature tourism objects, repair roads and parking places with co-financing of the EU funds.
"Attestation of investors' intent is a significant precondition for the local government to attract EU structural funds for improving the degraded territories in Kemeri. Only in partnership we can speak about a comprehensive, economically grounded and realistic development scenario for revival of Kemeri in the coming five years," said Jurmala Mayor Gatis Truksnis (Greens/Farmers).
George Jones, a representative of Park Hotel Kemeri and executive director of investment fund G-Capital, praised the constructive cooperation with Jurmala city, promising investments worth EUR 35 million in the project. EUR 20 million will be invested in renovation of the Kemeri sanatorium building, and EUR 12-15 million in reconstruction of former spa resort.
The local government undertakes to invest EU structural funds resources worth EUR 11.23 million in development of Kemeri by 2021, including in renovation of the historic park of the area of 42 hectares, repairs of local roads and streets, development of interactive nature tourism objects, development of the territories and parking places that will promote socio-economic development of Jurmala city and increase in the number of tourists.
The protocol of intent was signed by Jurmala Mayor Truksnis and Park Hotel Kemeri board member Andrejs Danengirss.
2016, 12 August